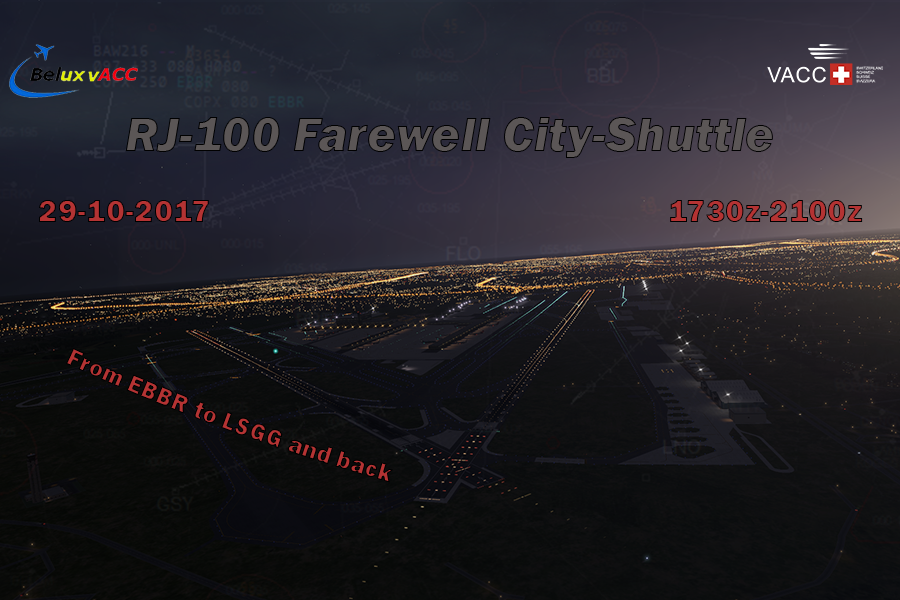 Belux vACC and vACC Switzerland are happy to announce a city shuttle between Brussels (EBBR) and Geneva (LSGG).

This is a farewell to the beloved Avro RJ-100 who will leave the Brussels Airlines fleet on the 28th of October.
Its last flight will be EBBR-LSGG and back. We encourage pilots to fly the Avro RJ-100, yet other aircraft types are welcome as well.
The event will take place the 29th of October between 1730z and 2100z. 
Routes:
EBBR-LSGG: ROUSY UT27 GTQ UN852 MOROK UZ24 AKITO (Max. FL310)
LSGG-EBBR: ARBOS UL47 PENDU UN853 DIK UY37 BATTY (Max. FL300)
Airport information and charts for LSGG are available here.
Airport information for EBBR can be found here and charts can be found here.
Scenery for Brussels: Scenery